Blessing Elderly Care family-type home for senior care has been in Seattle area Kent, Washington for you and your loved ones since 2003. Families are an essential part of an elderly person's life. We provide the peace of mind that your loved one is receiving quality care in a family type home environment.

Our residents are treated with as much love, safety, dignity and respect as they would if they were living in their own home.

Blessing Elderly Care offers around-the-clock senior supervision, private clean rooms with access to cable TV, personal one-on-one care, assistance with shower, dressing, walking, nutritious snacks and home cooked meals, daily laundry service, we help administering their medications and doctor visits.

At our home, there are never more than six residents, which enables our experienced caregivers to care for your loved one in a special way offering the warmth and security of living within a small family.

Our residents receive visits from clergies, nurses, and library senior services.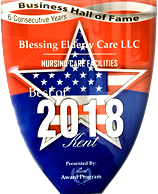 Discover Our Difference
We provide assisted living with experienced caregivers in an adult retirement community, bi-weekly registered nurse visits, doctor visits once a month or on-call as needed or using our accessible transportation we take our residents to see their own doctors depending on their needs.
Come Visit Us
Our guests enjoy full access to the fully fenced grounds, garden and deck, they can also socialize with each other in one of the two large and comfortable living rooms.

See our Indoor Video and Outdoor Video!